From September 26 to September 28, the first "Nanjing Youth Festival" was successfully held in the ancient city.
During the three days, youth from all over the globe gathered here, dream of China, dream of the world and dream of youth shining bright together.
During the three days, there were so many beautiful memories and moments.
During the three days, there were so many wonderful shows and events.
During the three days, there were so many important guests and inspirations.
……
During the three days, js.ifeng was also fully involved and with its special vision made a series of reports about the events and guests of "Nanjing Youth Festival", vigorously promoting the spirit of Nanjing Youth Olympics in the old but young city.
But we want to see more.
Out of retrospect and appreciation, we select 7 guests and in the theme of "A Look At Nanjing", considering their performance at Nanjing Youth Festival, sharing with the public about their life and stories.
Spirit of Nanjing Youth Olympics never fall!
Youth get moved to construct the world!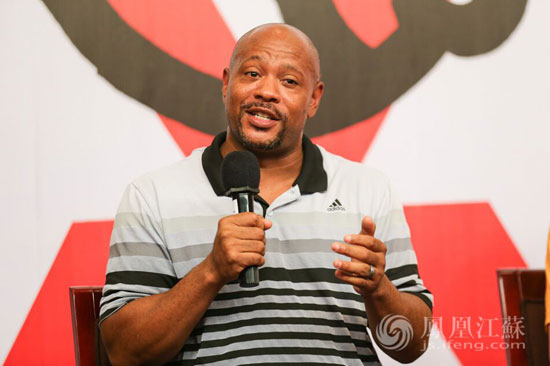 Guest
Maurice Greene
Born in Kansas City America in 1974, Maurice Greene is one of the fastest field sprinters in the world. In June 1999, he created a 100m world record with a time of 9.79 seconds in Athens. At the 2000 Sydney Olympics, he won two gold medals of 100m and 4×100 m relay.
American field athlete Maurice Greene remains the world record holder in the 60-meter dash and the first athlete who simultaneously holds the records of 50m,60m and 100m. He still holds the world record of 50m with time of 5.56 seconds and 60m with time of 6.39 seconds, defending his title as "King of Sprinter".
Since his retirement in 2008, Greene has helped to trained many players in football clubs and provided instructions and help of field training for many middle schools.
On the morning of September 24, Greene attended the warming-up event of Nanjing Youth Festival at Nanjing Sports Institute and interacted with students.
Greene shared with those students about his field training and even directly gave instructions to them. He said, "For young man, skill is more important that strength in field training. Strength training without skills makes no difference."
During the event, Greene was one of the important guests of Nanjing Youth Festival. He attended sports forum and the "YOUTH NIGHT" inspirational show at Wutai Mountain Stadium.
When interviewed, he emphasized the importance of sports for youth. As he said, "Young men are supposed to take part in sports events because it will make your life more perfect. Sports can teach you how to face difficulties and how to deal with it under pressure. If you can do well in sports, then it won't be a problem when faced with life and study. It is a kind of improvement of ability and makes you more confident and believe in yourselves."
"Nanjing Youth Festival" aimed at discussing post Youth Olympics and issues concerning development and how to inherit and propaganda the wealth of Youth Olympics. Greene expressed his opinion, "I like the concept of Youth Olympics. It is a good platform for young people to show themselves and make it possible for global youth to gather together."
Besides, he also made some comments on Chinese athlete Su Bingtian, He spoke highly of him and thought their keys to success were similar, but there was room for him to make progress. "So I think Su can run faster." Greene said.
As for the Rio Olympics next year, Greene suggested that among the top 8 athletes of World Championships, many of them can be improved. "But I think it is still difficult to defeat Bolt", Greene said.