A Look At Nanjing | Alexander Schischlik: Involve Intangible Cultural Heritages In The Life Of Youth
From September 26 to September 28, the first "Nanjing Youth Festival" was successfully held in the ancient city.
During the three days, youth from all over the globe gathered here, dream of China, dream of the world and dream of youth shining bright together.
During the three days, there were so many beautiful memories and moments.
During the three days, there were so many wonderful shows and events.
During the three days, there were so many important guests and inspirations.
……
During the three days, js.ifeng was also fully involved and with its special vision made a series of reports about the events and guests of "Nanjing Youth Festival", vigorously promoting the spirit of Nanjing Youth Olympics in the old but young city.
But we want to see more.
Out of retrospect and appreciation, we select 7 guests and in the theme of "A Look At Nanjing", considering their performance at Nanjing Youth Festival, sharing with the public about their life and stories.
Spirit of Nanjing Youth Olympics never fall!
Youth get moved to construct the world!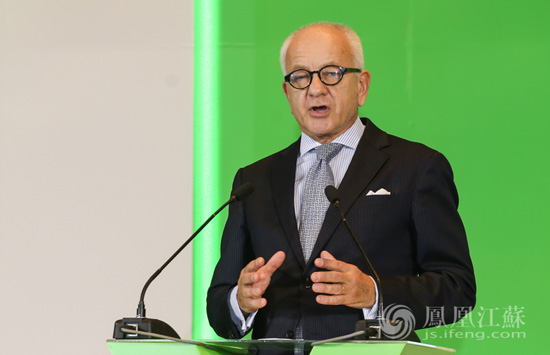 Guest
Alexander Schischlik
The special representative of assistant director-general of UNESCO and Minister of Youth and Sports Ministry
On September 27, it was Chinese traditional Mid-Autumn Festival. On such a special day, there was a theme high-level forum "Intangible Cultural and Modern Life", ten specialists and scholars from UNESCO and both domestic and foreign countries all proposed to involve intangible cultural heritages in the life of youth.
The special representative of assistant director-general of UNESCO and Minister of Youth and Sports Ministry Alexander Schischlik said, according to international convention, youth is a main force in protecting the intangible cultural heritages. "What is important is that youth should keep close relationship with their family, especially the elder generation should keep in touch with their grandsons and educate them about the history."
On that day, Nanjing Youth Festival Intangible Cultural Heritages Exhibition and the series events "Round Moon On Mid Autumn" of the folk culture celebration were held in Yaxi International City. On behalf of UNESCO, Alexander again appealed to the public to take part in the conservation of intangible culture.
On the previous day, jointly sponsored by UNESCO, Chinese Olympics Committee, All-China Youth Federation, China Charity Federation and Nanjing Municipal Government, "Nanjing Youth Festival" grandly opened in Nanjing. Alexander and many other guest were all present.
It was reported that during the Nanjing Youth Olympics in 2014, UNESCO, Nanjing Youth Olympics Committee and All-China Youth Federation held the "Forum On Youth Sports, Culture and Peace". According to the agreement "Nanjing Proposal", since 2015, there would be a "Nanjing Youth Festival" every two years to promote communication among youth all over the globe.
As the representative of one of the sponsors, Alexander spoke at the opening ceremony and repeatedly emphasized on the development of global youth and appealed to them for dialogue and communication, assimilation and acknowledgment and development of youth and world.
He said, "Now we are all paying attention to Climate Change, but on a second thought, in 20 and 25 years, earth will belong to present young generation and you are supposed to take the responsibility to reduce emission and clean the stained history of human. To ensure a clean future, we need to make sure youth have such conscience and play a leading role in environmental protection, cultural communication and charity."
At the forum, under the topic of Olympic Spirit, the guests created brilliant communication among different minds and cultures.
In his speech, Alexander stated the importance of sports, and delivered to the youth representatives all over the world his encouragement for the young generation. He said, "Sports, and youth play a key role in promoting peace and cross-cultural communication."